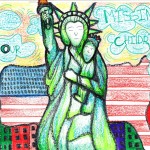 On May 23, 2012, the Department of Justice commemorated National Missing Children's Day with a ceremony honoring missing children, their families, child advocates, and those dedicated to the well-being and safety of children.  Deputy Attorney General James M. Cole recognized five individuals and presented them with awards for their contributions in preventing and responding to missing children and child sexual exploitation.  The National Missing Children's Day Poster Contest award was among those presented.  Elisa M., of Las Vegas, Nevada, was presented a savings bond and plaque for her national winning poster entry. Elisa was joined by her teacher, Ms. Danielle Rayos, and Julianna H., the 2011 national poster contest winner from Hattiesburg, Mississippi.
Elisa's poster description reads:
"The reason why I created my poster is because, I want missing children to know that someone would put effort and time to send a message for them, and for the missing children to know, that someone out there really cares that they're missing!  My poster, as you can see, has the Statue of Liberty on it with a child in her arms because the Statue of Liberty stands strong for the law which protects the children of America.  Also on my poster there is the United States with the flag on it and in the flag where the starts are supposed to be, there are stick figures of the abducted children of the U.S.  Plus the buildings are very bright because the children bring light to the States of America."
We congratulate and thank all the 2012 award winners and organizations who contribute to the recovery of missing, abused and neglected children.